Posted on: May 10, 2020
Keeping In Touch & Happy Mother's Day
May 10, 2020
Dear Parishioners & friends,
Greetings and Happy Mother's Day! Let not COVID-19 stop us from celebrating Mother's Day today. Let us express our respect, affection, and gratitude to all our mothers. Being a mother is a non-stop calling!
It was the 19th century Swiss Cardinal Gaspard Mermillod who said, aptly, that "a mother is she who can take the place of all others but whose place no one else can take." Indeed.
Jesus in the Gospel this Sunday tells His disciples: "Do not let your hearts be troubled. Believe in God, believe also in me." Wonderful words of life for all of us in these troubled times brought about by COVID-19. We remember, too, how our mothers gave us such words of comfort, assurance, and hope which we have held dear in our hearts all these years.

Please allow me to share with you a story. ONCE a young academically gifted man went to apply for a managerial position in a big company. The director learned from his transcript of records that the youth's academic achievements were excellent all the way, from the secondary school until postgraduate studies.
The director asked, "Did you obtain any scholarships in school?" the youth answered, "none." The director continued, "Was it your father who paid for your school fees?" The youth answered, "My father died when I was one year old, it was my mother who paid for my school fees."
The director asked, "Where did your mother work?" The youth answered, "My mother works as a laundrywoman." The director continued, "Have you ever helped your mother wash the clothes before?" The youth answered, "Never, my mother always wanted me to study and read more books."
The director said, "I have a request. When you go back today, go and clean your mother's hands, and then see me tomorrow."
When he returned home, he happily requested his mother to let him clean her hands. His mother felt strange, happy but with mixed feelings, she showed her hands to the kid.
The youth cleaned his mother's hands slowly. His tear fell as he did that. It was the first time he noticed that his mother's hands were so wrinkled, and there were so many bruises on her hands.
This was the first time the youth realized that it was this pair of hands that washed the clothes every day to enable him to pay for the school fees. The bruises on the mother's hands were the price that the mother had to pay for his graduation, academic excellence, and his future.
After finishing the cleaning of his mother's hands, the youth quietly washed all the remaining clothes for his mother. The next morning, the youth returned to the director's office.
The director noticed the tears in the youth's eyes, asked: "Can you tell me what have you done and learned yesterday in your house?" The youth answered, "I cleaned my mother's hands and also finished cleaning all the remaining clothes." The youth added," I know now what appreciation is. Without my mother, there would not be a successful me today. Also, I have come to appreciate the importance and value of family relationships."
The director said, "This is what I am looking for to be my manager. I want to recruit a person who can appreciate the help of others, a person who knows the sufferings of others to get things done. You are hired."
The story should remind us of the numerous hardships, concerns, and sacrifices our mothers have gone through in order for us to make something of our life. Today especially, MOTHERS' DAY, let's thank our dear mothers and pray for them, whether living or dead.
Here's a little joke for you to lighten your day. Ten men and one woman were clinging to a rope hanging down from a helicopter. One person had to let go or they would all die. The woman volunteered, saying mothers are used to making sacrifices for their husbands and children. When she finished speaking, all the men clapped... and fell down.
In closing may I offer all our mothers a special blessing: Holy God, you compared your own love for your people to the love of a mother for her children. Look with kindness on all our mothers, who have shared in your creating love by the gift of their children.
We thank you for the joys and sorrows of their lives, the giving and sharing, and, especially for your love that has formed us in your image.
Listen to our prayers and bless all mothers who have nurtured and sustained us. Give them patience in abundance and let them find joy and satisfaction in all their work.
Glory and praise to you, loving God, through Jesus Christ our Lord, who was born of the Virgin Mary, and who reigns with you in the glory of heaven, forever and ever. Amen.
Looking forward to seeing you for a public celebration of Mass.
Fr. Dan
Posted on: April 27, 2020
Keeping In Touch
April 26, 2020
3rd Sunday of Easter
My dear parishioners and friends of Holy Rosary Cathedral,
Greetings everyone!
Today is the 3rd Sunday of Easter. We continue our Easter journey. The Gospel today (Lk. 24, 13-35), as commented by my friend priest, tells us about the two disciples who encountered the Risen Lord on their way to Emmaus "looking sad." But "were not our hearts burning within us while he was talking to us on the road, while he was opening the Scriptures to us?" Their sadness became an excitement and a joyful experience. The presence and the words of the risen Lord eradicated the darkness in their minds and hearts. May we experience our own "Emmaus" moments with the Lord, and with one another during this war against COVID-19.

Let us not lose sight of God, and let us not lose hope. There is someone greater than us who can give us courage, hope, and meaning in all that is happening. Let us stay focused on Jesus, not on the virus.

We are encouraged to pray for a miracle! Let us pray that sooner than soon, our scientists and researchers will be led to find and make available the drug/vaccine/antidote to subdue COVID-19. Let us all pray for this miracle earnestly, every day.
Let us pray for one more miracle: that at the end, we will come out of this war against COVID-19 not only victorious but also more virtuous. May we all become better persons in all aspects, because we have been tested and purified.
The passage in today 's gospel "when he was at the table with them, he took bread, blessed and broke it, and gave it to them. Then their eyes were opened, and they recognized him" pre-figures or points to the Eucharist. It has been 5 Sundays already that we have no public Mass. I miss celebrating the Eucharist with you dear parishioners and friends.
The Eucharist for me is a celebration of a caring, serving, and loving community. If there is no community, there is no Eucharist ideally. And celebrating Masses physically segregated from the community is very painful for me as a priest. What makes the pain even more excruciating is to follow the mandate to offer Masses without the presence of the community as part of our social moral responsibility to the Church, to the country, and to the world. This is so painful.
My tears are flowing and my heart is bleeding as we go through these painful days offering Mass without your personal presence. While we do not also celebrate the sacraments and offer the Mass on Black Saturday, we are now being invited to observe a long Black Saturday (when the Church abstains from the Sacrifice of the Mass), for how long, nobody knows.
We are asked to be creative to be in communion with you as we face this pandemic. "It is painful that this communion comes in the form of suffering the loss of the source and summit of our Christian faith" (part of the letter of Archbishop Don to priests this past Holy Thursday).
Thanks to the technology available to us, we were able to bring to you our Triduum and Easter Sunday celebrations because of live-streaming.
Bishop Robert Barron thinks that "this time has re-awakened the Eucharistic hunger in a lot of Catholics."
May this pandemic help us "to learn again that true love does not wither with distance, but is actually strengthened by it. May we learn anew that love grows best when boundaries are respected; that distance need not mean indifference; that love actually needs distance to grow."
The month of May is traditionally dedicated to the Virgin Mary, our Lady of the Rosary. Our Holy Father Pope Francis wrote a letter on April 25, Saturday, encouraging all of us Catholics to seek the intercession of the Blessed Virgin Mary against the corona virus disease (COVID-19) pandemic by praying the Holy Rosary throughout May and let me say, every day.
He also shared two prayers to be recited at the end of the rosary which he would also pray "in spiritual union" with us. I am attaching the two prayers in this letter, that if you wish, you can use them.
May these days of quarantine become our Emmaus moments with You Lord.
Deeply grateful to all of you members of the Parish and Finance Councils, Building and Grounds Committee, to the CWL and Knights of Columbus, parishioners, and friends for your prayers, never-ending support and friendship.
Keep well, stay healthy and happy. Lifting you all to our Risen Lord.
Fr. Dan
The following are the two new prayers shared by Pope Francis:
First Prayer:
"O Mary, you shine continuously on our journey as a sign of salvation and hope. We entrust ourselves to you, Health of the Sick, who, at the foot of the cross, were united with Jesus' suffering, and persevered in your faith.
"Protectress of the Roman people, you know our needs, and we know that you will provide, so that, as at Cana in Galilee, joy and celebration may return after this time of trial.
"Help us, Mother of Divine Love, to conform ourselves to the will of the Father and to do what Jesus tells us. For He took upon Himself our suffering, and burdened Himself with our sorrows to bring us, through the cross, to the joy of the Resurrection. Amen.
"We fly to your protection, O Holy Mother of God. Do not despise our petitions in our necessities, but deliver us always from every danger, O Glorious and Blessed Virgin."
Second Prayer:
"We fly to your protection, O Holy Mother of God".
"In the present tragic situation, when the whole world is prey to suffering and anxiety, we fly to you, Mother of God and our Mother, and seek refuge under your protection.
"Virgin Mary, turn your merciful eyes towards us amid this coronavirus pandemic. Comfort those who are distraught and mourn their loved ones who have died, and at times are buried in a way that grieves them deeply. Be close to those who are concerned for their loved ones who are sick and who, in order to prevent the spread of the disease, cannot be close to them. Fill with hope those who are troubled by the uncertainty of the future and the consequences for the economy and employment.
"Mother of God and our Mother, pray for us to God, the Father of mercies, that this great suffering may end and that hope and peace may dawn anew. Plead with your divine Son, as you did at Cana, so that the families of the sick and the victims be comforted, and their hearts be opened to confidence and trust.
"Protect those doctors, nurses, health workers, and volunteers who are on the frontline of this emergency and are risking their lives to save others. Support their heroic effort and grant them strength, generosity and continued health.
"Be close to those who assist the sick night and day, and to priests who, in their pastoral concern and fidelity to the Gospel, are trying to help and support everyone.
"Blessed Virgin, illumine the minds of men and women engaged in scientific research, that they may find effective solutions to overcome this virus.
"Support national leaders, that with wisdom, solicitude and generosity they may come to the aid of those lacking the basic necessities of life and may devise social and economic solutions inspired by farsightedness and solidarity.
"Mary Most Holy, stir our consciences, so that the enormous funds invested in developing and stockpiling arms will instead be spent on promoting effective research on how to prevent similar tragedies from occurring in the future.
"Beloved Mother, help us realize that we are all members of one great family and to recognize the bond that unites us, so that, in a spirit of fraternity and solidarity, we can help to alleviate countless situations of poverty and need. Make us strong in faith, persevering in service, constant in prayer.
"Mary, Consolation of the afflicted, embrace all your children in distress and pray that God will stretch out His all-powerful hand and free us from this terrible pandemic, so that life can serenely resume its normal course.
"To you, who shine on our journey as a sign of salvation and hope, do we entrust ourselves, O Clement, O Loving, O Sweet Virgin Mary. Amen."
Posted on: April 4, 2020
Prayer to Our Lady of Guadalupe
by US Conference of Bishops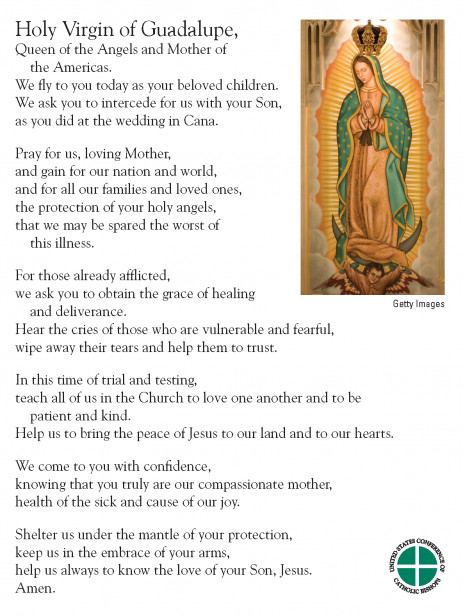 United with our Holy Father Pope Francis, let us pray in solidarity for our brothers and sisters here and around the world who are sick. Let us pray for those who have lost loved ones to this virus. May God console them and grant them peace.
We pray also for doctors, nurses, and caregivers, for public health officials and all civic leaders. May God grant them courage and prudence as they seek to respond to this emergency with compassion and in service to the common good.
Archbishop Jose H. Gomez
President of the U.S. Conference of Catholic Bishops